Are smart cities the answer to rising populations?
New smart cities are seen by some as the answer to rising populations and fewer resources – but others believe existing infrastructure holds the key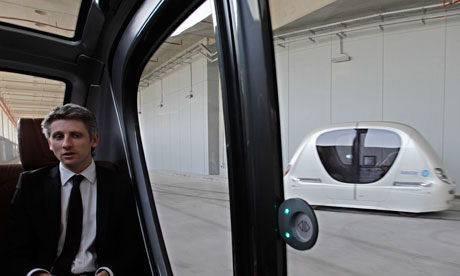 Self-driving electric cars will be a feature of Masdar City, Abu Dhabi. But is it the answer to rising populations and fewer resources? Photograph: Kamran Jebreili/AP
M
eeting the twin global challenges of more people and dwindling resources requires dramatic solutions. One answer is to build entirely new "
smart cities
", using the latest in technology and construction techniques.
The most well-know of this kind of project is
Masdar City
, which is being build on a spare square mile of desert by Abu Dhabi international airport and due to be completed in 2025 (pushed back from 2016).
The city will be raised metres above a concrete base to maximize its exposure to cooling winds, petrol cars banned and replaced by a fleet of self-driving electric cars in specially-built tunnels, and low-energy appliances and insulation mean the city will use only a quarter of the energy of a traditional city its size (an expected 40,000 residents and 50,000 commuters), almost all of which will be provided by a solar farm positioned outside the city limits.
What's not to like? Well, according to some of the world's leading thinkers in urban design and architecture, quite a lot.
Bjarke Ingels, the Danish architect [...] thinks that Masdar is "not exactly very practical. It's an extreme prestige project that doesn't really work in conventional economical terms."
The price tag for Masdar has been reported as $22bn (£14bn).
[...]
"The majority of the cities that will be our cities of the future are already here", continues Ingels. "Cities evolve in gradual increments. Even a city like
Shenzhen
, that grew from being a fisherman's village 30 years ago to being 40 million people at the last count, is developing on a series of existing conditions."
Adam Greenfield, founder and managing director of New York urban technology company
Urbanscale
, and working on the book The City is Here For You to Use, agrees with Ingels. "Instead of building smart cites, we need to ... help cities do what they already do," he says. "To remain supple enough in our technological and budgetary commitments that we can respond."
[...]
In other words, the technology of a brand new city may begin as cutting edge, but could be outdated even before completion, and that of existing cities may be outdated, but the infrastructure is already there to build upon and retrofit.
"We do need a radical new approach, but the radical new approach may be hiding right under our noses," says Greenfield. "Retrofitting means an acknowledgement of and an adaptation to reality. Habits and patterns of sociability change – we cannot begin to know, when we layout a plan for a new city, what use people are going to make of it. The street literally does find its own use for things."
[...]
However, if retrofitting is the answer, is it happening? There are a handful of positive examples, such as the
Bristol retrofit city
initiative. Or poster child projects such as the Tate Modern's regeneration of the Bankside power station, or New York's High Line park giving new life to the former central railroad.
Ingels also points to the transformation of industrial river waterfronts into the Hudson River Park and the East River Park in New York, a trend that can be seen from Oslo to Newcastle. "These are radical developments that have occurred relatively invisibly over the past 10 years but are massively changing how the city feels and how it is to inhabit ... It's a continual re-investment and upgrade of existing cities."
[...]
"You will see many more such examples in the future: major public investments in energy or transport that won't be the evil overpass that creates shadowy wastelands underneath, but more carefully considered urban interventions ... Once completed, our project will open up the possibility for other cities to continue this development."
Not so much out with the old and in with the new, then, but the old and new working together.
Source: http://www.guardian.co.uk/sustainable-business/blog/smart-cities-answer-population-fewer-resources